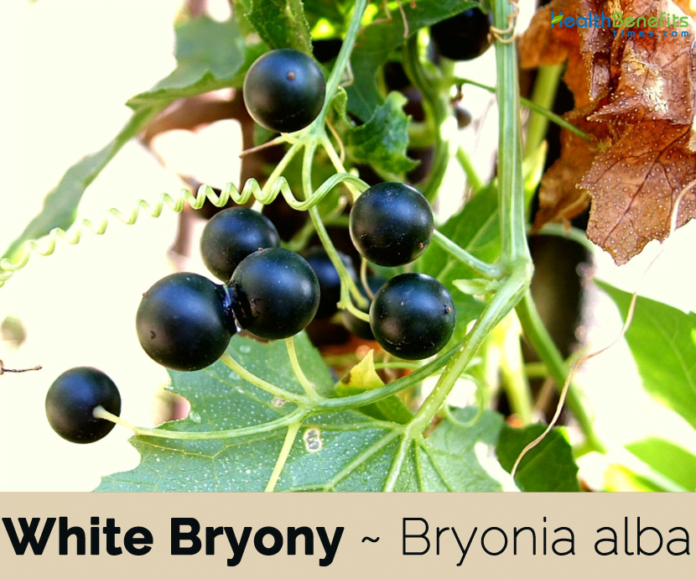 The scientific name of white bryony is Bryonia alba. Its origins are from Europe and Northern Iran. It is a vigorous vine in the Cucurbitaceae family. The white bryony has been introduced to the United States, where it is listed as a noxious weed in Montana, Idaho, and Washington. The white bryony has a growth habit similar to kudzu, which gives it a highly destructive potential outside its native range as a noxious weed. The color of white bryony is initially light green and it changes to black when mature. The taste of white bryony is bitter.
The shapes of its fruits are spherical berries that are sized about 1.5 cm in diameter. The white bryony is one of the best natural treatments for breast problems, joint pain, headaches, dry coughs, and cold and flu. All parts of white bryony, especially the root, are poisonous, so you should always talk with your doctor before you use it as your home remedy. Larger doses of white bryony can be poisonous. When you touch fresh white bryony, then it can cause skin irritation. Eating the berries of white bryony can cause death. The root of white bryony is collected in the autumn and it is used in both fresh and dry states.
When it is fresh, it has a dirty yellow or yellowish-white color. When the white bryony is taken by mouth, then it can be very unsafe for children. When white bryony is applied to the skin, then it can cause redness, rash, dermatitis, and blisters, so you should be careful when you use it. The white bryony can lower blood sugar levels, so it is not recommended to be used by people who suffer from diabetes. The flowering season of white bryony is from May to June.
It has minerals like manganese, copper, zinc, sodium, potassium, iron, and magnesium. It has Vitamin C and Vitamin B9. Young shoots of white bryony are eaten, but you should be careful because they can be very poisonous. If you have an allergy, then avoid the white bryony. Here are some health benefits of white bryony:
Breast problems
It has been found that white bryony is an effective homeopathic remedy for treating the breast, which turns pale, hot, and firm. Also, these problems are accompanied by piercing pains, especially in nursing mothers or pregnant women.
Joint pain
Our joints, like the muscles, can become hot, distended, and rigid. They can be accompanied by many symptoms, such as sharp pain. This pain can be caused by different health problems, such as gout, arthritis, or tenosynovitis. They can be followed by any type of injury. It has been shown that the white bryony can help you to get relief from the symptoms of joint pain, but talk with your doctor for the correct way of using this home remedy.
Headaches
Many people suffer from terrible headaches and a rupturing, splitting headache that is happening above the left eye or in the forehead. Even the slightest movement of their eye is leading to pain in the eyeball. This type of pain can gradually spread to other areas of the head and subsequently to the entire head. Usually, this condition is lasting for days. In these cases, people can have a dehydrated mouth and they can have increased thirst. The white bryony is one of the best natural treatments which you can use for the mentioned problems. Your doctor will tell you which will be the best dosage for your health without causing side effects.
Dry coughs
The white bryony is one of the best homeopathic remedies for people who suffer from tremendous dehydration in the mouth, throat, chest, and mucous membranes that are irritated by the stabbing chest pain and irritating cough.
Appendicitis
There are some cases when the white bryony is used to treat severe cases of appendicitis, so if you suffer from this condition, then talk with your doctor before you use it as your natural remedy.
Cold and flu
The white bryony is an effective home remedy for people who undergo physical symptoms like distended, tender, and reddened nose and tightened and hoarse voice. Also, it is an effective home remedy for dry cough.