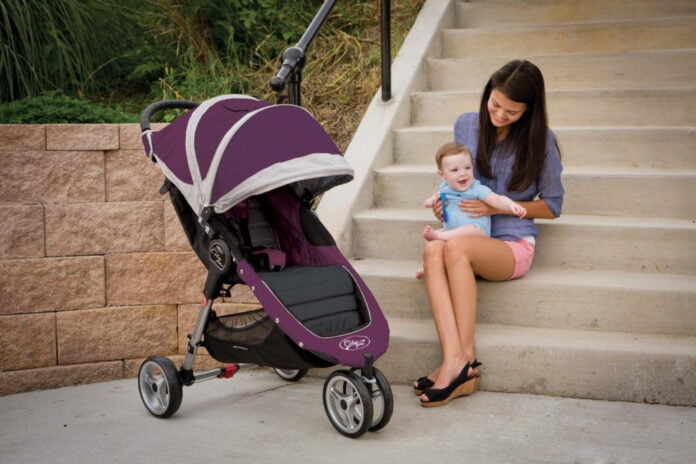 Many parents think that choosing a pram is one of the easiest things which they can do. They think that they just need to go into the shop and look for one brand. But, they are wrong. It is not just buying the first pram that you like the most. Also, there are many other things which you need to consider. We know that pram is a four-wheeled carriage that is designed especially for newborn babies, usually when they are lying flat. You can easily turn the pushchair into a pram if it has an addition of a carrycot or it has lie-flat seat.
Many parents have concluded that buying a car is more easily than buying a suitable pram for your newborn. Going around markets and listening to all people talking about prams, make you wonder if you will make the right choice. Many parents choose light prams because they are easier to use in public transport, but you need to remember that some prams can only be used when your baby is able to sit unsupported when he is around six months.
All newborn babies must travel in a laid-back position, which can give them total comfort and support, which means that you need to buy a pram with a C. Also, if you buy a pram and you have a car, you should carefully choose if it will be suitable for your car. You need to make the safety of your baby in the first place. The pram needs to be clean when you put your baby in it, so you will reduce the risk of getting any kind of infection.
What type of pram do you need for your newborn:
You should remember that your newborn baby needs to lie flat in a pram because this protects their backs. Also, it assists with breathing and it is considered much healthier for their overall development than being scrunched up at any kind of angle. In many cases, this means that a chassis with a carrycot is where babies start, but there are ranges of seat reclining pushchairs now which enable 180 – degree lie, flat, seat position. Until your baby is between three and six months old, the 180 – degree is a must rule and anything which is different from this should not be used for your baby.
Tips for choosing a pram for your newborn:
Below are given ten things that can help you to make your choice. If you are in the market now, then you can read them, because they are useful and they can help you a lot. But, at the end of the day, parents will buy the best pram which suits their needs, budget, and lifestyle.
Can you fold it easily:
You should know that a degree in physics is needed to fold some prams on the market and while the salesperson may it looks like a simple flick of switch maneuver, but you have to go at folding and collapsing the buggy yourself. If this is fiddly, then you can ask the salesperson for simpler models, because this little annoyance could well do your head in down the track. [1]
Can you lift it:
Many parents have concluded that prams can be so much heavy, with some topping the scales at 15 kilograms and this is without your newborn in the pram, the toys you are wearing for him, and without what you have bought from markets. If you are not a weightlifter (rarely some women can lift a heavy pram), then you need to consider the number of kilos that you are prepared to push and lift. So, you need to choose a pram that has fewer kilograms. [2]
What is your budget:
You may think that prams have just one price, but you are wrong. Just like cars, prams can vary in price, from cheap and simple to pricey for all the whistles and bells. You need to decide with your partner which will be your budget before you start choosing prams for your baby. Also, you should think about the accessories you might want to buy, such as an attachable tray for your baby's toys or food, or a rain cover. These attachments can cost you a lot, so you need to consider them in buying the pram.
Do you want the baby to face you at first:
Many parents want their newborn babies to face them in the early weeks, but they quickly discovered not all front-facing strollers allow this option. If this is important to you, then you will need to look for a pram with a reversible handle or other reverse function which will allow your precious cargo to face you, or when she older, face forwards and see the world. [4]
Where will you use it most:
You need to think about where you live and where you go. If you live in some area that is hilly and with rough terrain, then you will need a jogger pram or a four-wheel pram with spring suspension and larger wheels will be a smoother ride for your newborn. If you want to spend most of your cruising around on even mall surfaces, then you will need a plastic wheel pram, but you should be sure that the shopping basket is a decent size.
If you live in an apartment or in the city, then a three–wheel jogger pram foe easy turning in tight spaces, or an easy – fold stroller that is lightweight and does not take up much storage room.
Is the pram for your newborn:
The newborns lack the necessary strength in their necks to support their heads. As this is your case, then you will need a pram for a newborn that will either need to recline flat or come with a removable bassinet or travel system, so you should be sure to ask about the stroller's newborn babies. You can buy a flexible pram because this is often an investment in the long – term because this will accommodate a toddler from newborn to toddler with no fuss.
How many passengers:
You need to think if your pram will be just for one child, or you will carry another child with the newborn. Also, if you are pregnant with twins, you need to think about a bigger pram. If this is your case, then you will need to look for a double and plus one – pram, which can accommodate an extra bassinet or seat. If you have a toddler, then you may want to take a pram with extra seating options, or a ride – on a skateboard – style food stand.
Will it fit in your car with shopping and other items:
You should check the buggy fits comfortably into your car. This is the case when you will wheel it out of the shop, collapse it and lift it into the back of your car before purchasing. You need to consider what else you will need to fit around it, such as a box of nappies or other shopping. Many parents have decided that they need a pram which can be folded in half, not lengthways, and to fit in the boot of their car. [3]
Do the handles adjust for different heights:
If both parents are of different heights, then they to be sure the handle is adjustable. Also, it should be the adjustable height for the grandparents, because they will walk the newborn too. You should pick up prams which features high carrycots so you do not break your back leaning down to pick up your baby.
Three or four wheels:
This is a much-talked topic among mothers, as well as stroller sales staff. Many parents have found that four–wheelers are giving more stable rides with dual suspension, while the three–wheelers are generally more maneuverable and easier to fit into tight spaces. You should make a road test in the store for each pram, so you will know how you will feel about it and make the decision.
Consider the material of wheels:
Hard form: This type of wheel offers a smooth ride. It does not require pump-up maintenance, but it is heavier than plastic wheels and it can be more expensive.
Plastic form: This type of wheel is light. It is often found on more affordable prams, but they have less cushioning, so they can be a bit of a bumpy ride on rough terrain. This type of wheel is best suited for even–paved surfaces and indoor floors, such as shopping centers.
Air tires: The air–filled tires offer a smoother and more comfortable ride, especially on rough – terrain. Also, they are best for outdoor exercise. But, just like the bike tires, you might need to maintain them with the occasional pump, or in some cases, you can have the tube replaced if the tire gets a puncture. [5]
Be prepared to compromise:
It might be tricky to find a pram that ticks all your boxes, including the price one. If you need to make a compromise on anything, then you make sure it is the small thing that will not be deal breakers for you down the track. With all the things we have said, you surely noticed that buying a pram is harder than choosing a car. You need to remember that the safety of your baby is in the first place, so you should not doubt choosing the pram which will be the best for you and you are newborn.
References:
[1] Sehat AR, Nirmal U, Jin Z. State of the art baby strollers: Design review and the innovations of an ergonomic baby stroller. Cogent Engineering. 2017;4(1).
[2] Mireault GC, Rainville BS, Laughlin B. Push or carry? Pragmatic opportunities for language development in strollers vs. backpacks. Infancy. 2018;23(4):616–24. doi:10.1111/infa.12238
[3] Birken CS, Lichtblau B, Lenton-Brym T, et al. Parents' perception of stroller use in young children: a qualitative study. BMC Public Health. 2015;15:808. doi:10.1186/s12889-015-1989-6
[4] Curtis P. Type of buggy can affect baby development, study finds. Guardian. 2008. Retrieved from www.theguardian.com/society/2008/nov/21/baby-development-buggies-sutton-trust
[5] Manitoba. Education and Early Childhood. Retrieved from www.gov.mb.ca/education/childcare/