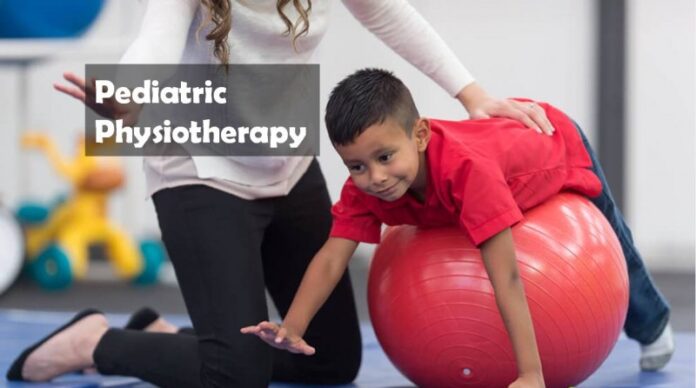 Many parents think that physical therapy is just for athletes and adults in recovery. But, the answer is no. In many cases, children and even babies need physical therapy as well. You might not give a second thought to picking up a drink or walking up the stairs. But, for a child with a delay in development or injury, these simple tasks can be e real challenge. This is a place when your children need a pediatric physical therapist.
There are a lot of skilled pediatric physical therapists which evaluate and provide treatments for infants, children, and adolescents with problems that affect the musculoskeletal system. Some children need physical therapy to help them with recovery from traumatic injury, sports injury or surgery, or with a chronic condition or developmental delay.
The main activity of the pediatric physical therapist is to check out and present treatment for delays in motor skills by developing the strength and range of motion that children need to move through their environment easily and effectively. But, the pediatric physical therapist is not just helping to improve the flexibility, strength, posture, gait, balance, sensory processing, skill, and coordination, but he or she is also trained to assess motor development using standardized testing for age equivalents.
The long–term goal is to make developments in the motor skills which are solid to age with good quality to both sides of your child's body. You can find a pediatric physical therapist in many institutions, such as daycare centers, schools, home – care, outpatient clinics, hospitals, and Early Intervention Programs. The primary benefit of practicing pediatric physical therapists is to make the joy of helping children and their families to achieve their greatest abilities under challenging circumstances. [1]
What is a pediatric physical therapist?
When your child needs physical therapy, then he or she will work with a pediatric physical therapist. Usually, the pediatric physical therapist treats kids under 18, from newborns to teenagers. They see children for different reasons, including spine, nerve, brain, or genetic disorders, as well as sports-related injuries or bone/muscle problems. Pediatric physical therapists have years of training. Some of them even earn a doctor of physical therapy degree.
The work of pediatric physical therapists:
The pediatric physical therapist can help kids improve their range of flexibility, strength, motion, and movement patterns. The goal is to help children move their bodies how and when they want to the best of their abilities. The pediatric physical therapist can help to make daily activities easier for kids.
How pediatric physical therapy can help?
Our children deserve every opportunity when it comes to their futures. Many pediatric physical therapists offer a comprehensive approach to help children reach their highest level of independence within their environment. This program is designed for anyone with 21 years of age or younger with impairments, including developmental, congenital, neurological, musculoskeletal, and orthopedic conditions.
What will children do in a physical therapy session?
For most children and parents, pediatric physical therapy sessions should and feel like play. Pediatric physical therapists engage kids with fun, age – appropriated games and activities to keep them motivated and happy. Kids need to have fun, but pediatric physical therapy can be hard work. Pediatric physical therapy can help to improve gross motor skills [1]. These are tasks that involve large muscle groups, like throwing and walking. Pediatric physical therapists improve children's motor skills by encouraging them to do things like:
Stand on one foot
Balance on a balance beam
Run/hop around to improve their coordination
Play on large exercise balls to build strength
The pediatric physical therapists can also suggest activities to do with your child at home.
How to prepare your child for the pediatric physical therapy appointment?
If your child or adolescent has never visited a physical therapist before, then it is helpful to let your child know that the therapist will work together with the child to improve the problem your child is having. You need to remind your child that the physical therapist, just like a doctor or nurse, has to look at and touch parts of your child's body. You can make a list of questions that you and your child have and talk or make notes about the symptoms or pain your child is experiencing, such as times of the day that the problem is worse or what types of movements or positions make it worse. [2]
The first visit of your child at pediatric physical therapist:
When you are at the first visit with your child at the pediatric physical therapist, then you need to be ready to answer and explain a lot of questions about the health of your child or support your adolescent's interview with answers about family medical history. The physical therapist will thoroughly evaluate your child during the first visit and may ask your child to perform certain activities to observe how the body functions and moves or to measure muscle strength.
Problems which pediatric physical therapists can help with:
Some children, like children with cerebral palsy, might need physical therapy throughout his or her life to improve their muscle strength and to prevent joints from stiffening [3,4]. The main treatment for torticollis is physical therapy. Torticollis is a tightening of an infant's neck muscles which can lead to problems with movement, balance, or the child's skeletal development. A pediatric physical therapist can help with many health problems, such as
Nerve/muscle conditions, such as cerebral palsy
A low orientation and/or motor planning, which is the capability to think of and carry out a motor act, such as writing with a pencil
Muscle weakness or imbalances
Genetic disorders, such as Down syndrome
Not hitting the milestones for their age
Postpones in growth, such as a kid who should be walking
Recovery from sports and non – sports-related injuries
During the initial visit, the pediatric physical therapist will check your child's development and strength and he or she will see how easily they can stand, walk and complete tasks relevant for their maturity to see if there is a delay. If there is a delay, the therapist can determine the degree and potential cause of the delay. From there, a pediatric physical therapist will work with you and your child to figure out a treatment plan.
If you have some concerns about your child's development and you think that he or she could benefit from the physical therapy, then be sure to talk to your healthcare professional. You should remember that most clinics offer a free 15-minute screening.
Treatment options:
There are different treatments that the pediatric physical therapist can recommend for your children, such as
An imaginative, fun, experienced approach to addressing strength and coordination deficits
Splinting/taping techniques [5]
Proprioception/balance training [6]
Stretching/manual range of motion exercises
Manual therapy techniques
Functional mobility training [1]
Caregiver/patient education
Therapeutic exercise
When is a physical therapy evaluation recommended?
You need to talk with a pediatric physical therapist about physical therapy evaluation to address your concerns. A parent, caregiver, or a physician clinic can see that there is a certain problem with a kid and he or she will recommend getting help from a pediatric physical therapist. A physical therapist will complete your child's evaluation. This will identify areas of deficits or/and delays to create an individual treatment plan and goals.
We all know that the family is closely involved with the child's therapy. Doctors value the input and participation of families to help develop and carry out the therapy plan. Home programming, recommendations, and discussion of progress will be provided to ensure maximum benefit from physical therapy. You should talk with your pediatric physical therapist about physical therapy evaluation if you have concerns about your child's:
Walking
Orthotic and prosthetic use
Infant head shape
Movement and mobility
Developmental milestones
Joint motion or protection
Physical participation in daily activities in-home/community
Strength and endurance
Adaptive equipment
Balance
Pain management
Coordination
Posture and positioning
References:
[1] Trawick-Smith J. The physical play and motor development of young children: a review of literature and implications for practice. The Center for Early Childhood Education. Retrieved from www.easternct.edu/center-for-early-childhood-education/about-us/publications-documents/benefits-of-play-lit-review.pdf
[2] Cicirello NA. The role of parent coaching by pediatric physical therapists: an exploration of current practice. Dissertation: Doctor of Education in Educational Leadership: Post Secondary Education. Portland State University. 2005.
[3] Das SP, Ganesh GS. Evidence-based approach to physical therapy in cerebral palsy. Indian Journal of Orthopaedics. 2019;53(1):20–34. doi:10.4103/ortho.IJOrtho_241_17
[4] Furtado MS, Ayupe KMA, Christovao IS, et al. Physical therapy in children with cerebral palsy in Brazil: a scoping review. Developmental Medicine & Child Neurology. 2022;64(5):550-60.
[5] Jackman M, Novak I, Lannin N. Effectiveness of hand splints in children with cerebral palsy: a systematic review with meta-analysis. Developmental Medicine & Child Neurology. 2014;56(2):138-47.
[6] Bonnechere B, Omelina L, Jansen B, Sint Jan SV. Balance improvement after physical therapy training using specially developed serious games for cerebral palsy children: preliminary results. Disability and Rehabilitation. 2015;39(4). doi:10.3109/09638288.2015.1073373