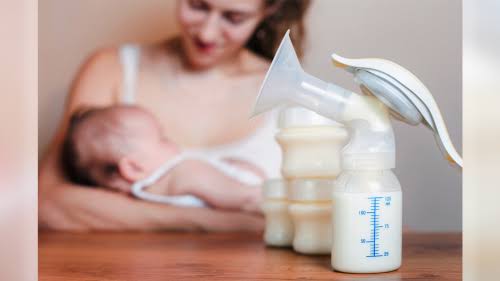 Breastfeeding is the best type of feeding for all new newborns. It gives them all the nutrients they need to have proper development and growth [1]. In many ways, breastfeeding is a convenient way to feed your baby. But, in other cases, it can be a hassle. These things can get more complicated if you are planning to travel for a few days without your baby. The prospect of leaving can quickly become overwhelming between travel regulations, milk storage, and packing all your pump parts.
You do not need to worry anymore if you are planning to travel while pumping. In this article, you will find everything you need to make your trip, pump while you are away, and get your milk home safely. No matter it is due to business or pleasure, there are a lot of times you will need to travel away from home as a breastfeeding mother. It may be a night away with friends, a wedding, or a work trip. But, if you are away from your baby, this does not mean that he or she has to stop having your breast milk. [2]
When you have the right information and equipment, then you can express on the go to maintain milk supply, store the breast milk while traveling, and transport milk home for your baby.
Planning your traveling and pumping
If you are traveling by road or rail, then you should think about whether you can express in the move or you need to plan stops. Often, train carriages have electrical sockets, but they do not have private space. The roadway services may have a private room, but not always sockets. There are many electric breast pumps that are working with batteries, so you should be sure that you have taken enough batteries with you.
Some breast pumps have a built-in rechargeable battery, which makes them easier to transport because you can simply plug in to charge when required. Many mothers have to travel regularly for work, so they expressed milk in many different places. They choose to inform organizations where they work to tell them that they need a few breaks per day and a private place to sit. They choose a good breast pump with a battery, so they can express anywhere.
Other mothers have said that when her babies were small, she worked from home. But, often she had to travel by train to meetings for several hours away. She used an electric pump for doubles, so her partner can feed their babies when she was not able to breastfeed them. Another woman, a mother of three, had to travel overseas away from her nine-month-old baby.
She asked for a room with a fridge from the hotel and she identified wherein the two she can get dry ice. She pumped the breast milk throughout the conference. Then, she put each milk bag in a portable cooler and then transferred them to the hotel fridge each evening.
Types of breast pumps
There are 4 main types of breast pumps [3,4]:
Manual breast pumps
These are inexpensive, portable, and lightweight. They have one bad thing and that is you have to work yourself and you may not get as much milk as a result.
Single–electric breast pumps
With this type of breast pump, you will be able to pump one breast at a time and this can take longer. They have one advantage. They cost less than a double–electric breast pump.
Double–electric breast pumps
These are powerful electric models which let you pump both breasts at once. If speed is your concern, then you should know that you will do it for a fast period.
Battery–operated breast pumps
These breast pumps can be slower and they run through batteries pretty quickly. They are portable and helpful if you do not have access to an electrical outlet, such as when you are traveling or going to work.
Closed–system pump or open–system pump
The closed–system pump is also known as overflow protection. It is one that is sealed off from the milk by a barrier. It is the most hygienic type of pump because the barrier prevents the milk from getting into the machine, which can make small pieces and tubes difficult to sterilize. Also, they tend to be more expensive than open–system pumps.
Open–system pumps do not have a barrier between the milk and the pump mechanism, so the milk flows through tubes and other small pieces into the bottle and this is a reason why they can come in contact with the pumping mechanism. They are less expensive than closed–system pumps, so choose the type you think is better for you.
Air travel with a breast pump
If you are flying by plane, then talk with the airline. You should let them know that you will be traveling with a breast pump and expressed milk. You should ask about any rules for carrying this milk in your cabin bag or checked luggage. The rules for frozen milk may be different from those for liquid. Also, the airline staff should tell you where you can express in the airport and in the airplane.
One mother has packaged her milk bags into a cooler with dry ice on the morning of her flight. At the airport, she showed the check-in agent that she know instructions on flying with frozen breast milk. This milk traveled through different countries and after 30 hours when she was finally home, her milk was perfectly frozen.
Essentials for expressing on the go
It is vital to have the right kit for successful pumping, particularly if you are doing it for extended periods. Using a double electric breast pump will enable you to express simultaneously from both breasts, which will save valuable time as well as yield 18% more milk on average than pumping from each breast in turn. You may prefer to use express by hand, a manual pump, or a single electric breast pump.
Also, you will need to contain your milk, either in a breast milk storage bag or in a plastic bottle, and somewhere to keep it cold or frozen, such as a cooler bag. Also, it is useful to pack a travel-sized hand sanitizer gel and a plug adaptor if you are traveling abroad. You can express everywhere you go, such as on planes, in the car or even in public toilets. You should always have a stock of storage bags and an electric pump. Also, you should have a portable charging battery pack and a manual pump for emergencies.
Pumping when you are staying away from home
If you need to travel, then you should talk with your accommodation in advance to give you a room with an icebox or fridge. If they do not have a room like this, then you should ask the hotel staff to use the hotel fridge or freezer for storing milk. You should pack a lot of breast milk freezer storage bags, as well as a cooler bag and a breast pump.
You should transport the frozen milk home using an ice pack. If the milk thaws during the journey, then you should be sure that you will use it in a period of 24 hours. Some mothers keep their milk in a home on dry ice.
Storing breast milk while traveling
In some cases, traveling mothers express simply to relieve engorged breasts or to keep up their milk supply. If you want to save the milk for feeding your baby, then you should be sure that it remains safe to drink. You should store your milk in sanitized plastic bottles or breast milk storage bags. You should label it with the pumping date, so you will know for how long it is safe to use.
Many mothers choose manual breast pumps, so they can express in restaurants, at the office, or on the train, without needing batteries or an electrical socket. Mostly, they pump just to maintain their supply and to ease the discomfort. But, sometimes, they take a freezer pack and storage bags with them to bring the milk home. You should keep your milk in a fridge or freezer before you transfer it to a cooler bag. If you are using a shared fridge, then you must label your breast milk, so no one will put this milk in their coffee.
Transporting your breast milk
You can take your expressed milk home or to a childcare setting in bags or bottles, inside a cooler bag with a freezer pack. If the ice packs are defrosting, then you should ask for a bag of crushed ice from a café or a fast food outlet. You should remember that breast milk is safe at room temperature for up to 4 hours. When you keep it in the fridge, then it can be used for 3 days. When you keep the breast milk in a freezer, then it is safe to use for up to 6 months. [5]
It is very important to find some supportive and flexible work, which will understand your needs as a breastfeeding mother. Before your work travels, you need to ask for a room with a fridge, so you can store your milk in it.
References:
[1] Geddes DT, Gridneva Z, Perella SL, et al. 25 years of research in human lactation: From discovery to translation. Nutrients. 2021;13(9):3071.
[2] Rasmussen KM, Geraghty SR. The quiet revolution: breastfeeding transformed with the use of breast pumps. American Journal of Public Health. 2011;101(8):1356–9.
doi:10.2105/AJPH.2011.300136
[3] Meier PP, Patel AL, Hoban R, Engstrom JL. Which breast pump for which mother: an evidenced-based approach to individualizing breast pump technology. Journal of Perinatology. 2016;36(7):493–9. doi:10.1038/jp.2016.14
[4] U.S. Food & Drug Administration. Types of breast pumps. Retrieved from www.fda.gov/medical-devices/breast-pumps/types-breast-pumps
[5] Centers for Disease Control and Prevention. Proper storage and preparation of breast milk. Retrieved from www.cdc.gov/breastfeeding/recommendations/handling_breastmilk.htm