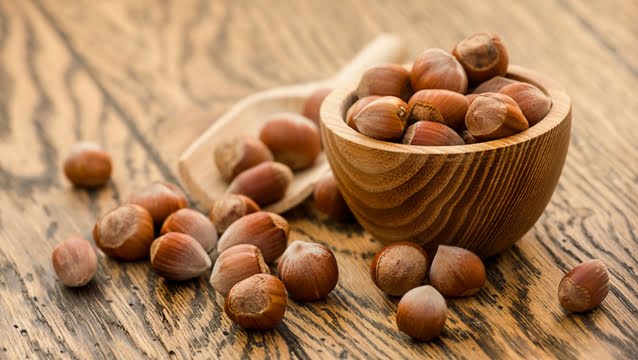 There is no person in the world who have never eaten or heart about hazelnuts. There are many chocolates and hazelnut – based breads which gave the popularity of hazelnuts all around the world. Hazelnuts and their health benefits have been known since ancient times. Hazelnuts were used as a flavoring agent in coffee and liqueurs. The hazelnut oil was popular as a cooking medium. Hazelnuts are powerful antioxidants and they are ideal sources of protein for vegetarians, especially if you want to lose weight. In 100 grams of hazelnuts, there are 15 grams of protein which is fulfilling more than 30% of the daily requirement. Hazelnuts are free of cholesterol and sodium, rich in healthy fats and they are giving 93% of the daily fat requirements. You need to talk with your doctor if you are allergic to other nuts before you add hazelnuts in your diet.
Health benefits of hazelnuts:
Helps you gain weight: Hazelnuts are rich in healthy fats. When you are consuming two ounces of hazelnuts, then they can help you to gain weight in healthy weight. You need to talk with your doctor before you start eating hazelnuts because in this way you will avoid unnecessary complications.
Beneficial for controlling the blood pressure level: It is known fact that hazelnuts are beneficial for people who suffer from hypertension. They are good source of healthy fats. Also they have saturated fats which are making just 1.5 grams in an ounce of them. Hazelnuts are giving 2.7 grams of dietary fiber, 193 grams of potassium and 46 grams of magnesium. We know that a good dose of potassium is very important for lowering the blood pressure levels and they can reduce the risk which is associated with the onset of many cardiovascular conditions, such as paralysis and stroke.
Good for infants: We know that folate is an essential element which is contributing to the growth of infants. In 30 grams of hazelnuts, there is 17% of the daily recommended amount of folate.
Plays a role in improving the fertility levels: In the ancient texts were revealed that hazel trees are considered as a symbol of fertility by Celts. There are some studies in which are suggested that hazelnuts are having the power to cut down the levels of sugar in the blood, aid in improving the levels of fertility and improve insulin sensitivity.
Good for constipation troubles: It is rich source of fiber. You should add hazelnuts in your diet because they can help you to maintain bowel movements. Hazelnuts bend with the stools, loosen them and they prevent constipation.
Good for muscles: We know that the magnesium is playing a key role in keeping calcium level moving to and from body cells in a healthy way. Also hazelnuts aid in muscle contraction and preventingon muscles. This in turn will ease the tension and prevent and combat muscle soreness, cramps, spasms and fatigue. There are some studies in which are said that a good source of magnesium on daily basis can help to strengthen the muscles.

Hazelnuts benefits
Innate power for preventing cancer: Hazelnuts have alpha – tocopherol which is a Vitamin A variant that posses the power to curb the risk that is associated with the onset of bladder cancer by more than 50%. Hazelnuts are abundant sources of manganese. This mineral is an ingredient in the anti – oxidative enzyme in mitochondria which is playing a big role in the prevention of cancer.
Good for split ends: You can massage a few drops of hazelnut oil to your split ends. You will notice that the damage will disappear over time and it will leave your hair radiant and healthy.
Keeps you safe from harsh UV rays: You can apply hazelnut oil on your skin. It is acting as a natural sunscreen which can keep you safe from the harmful UV rays. You should mix a few drops of hazelnut, walnut, avocado and sesame oil and you should apply it on your skin to get a protection from the UV rays.
Helps in delaying premature aging: Hazelnuts have Vitamin A and Vitamin C which are powerful antioxidants. They have synergic effect which can prevent the onset of wrinkles and fine lines on the skin and also they can delay the early onset of aging signs.