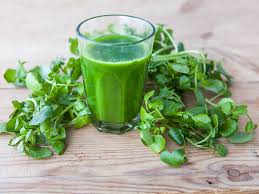 The watercress juice has many health benefits, such as boost energy levels; treat scalp infections; improves skin conditions; fight cancerous cells; support thyroid health; support cardiovascular health; improves bone density; works as an antidepressant; nourishment for expectant mothers; treat cough and cold; treat asthma attacks; improve psychological health; support healthy eyes.
You should know that watercress is rich in nutrients. You can add it to your bowl of salad to enhance your overall nutritional value of what you eat. Also, you can consume the watercress in the form of watercress juice. This juice should be prepared by using fresh watercress leaves to obtain many different nutrients.
The watercress is a cruciferous vegetable plant that belongs to the Brassicaceae family. Nutritionists often recommend drinking watercress juice to help improve the condition of your health. In watercress juice, there are many nutrients, such as zinc, Vitamin A, Vitamin C, sodium, phosphorus, niacin, magnesium, folate, and calcium.
Here are some health benefits of watercress juice:
Scalp infections:
It has anti-bacterial properties that can help to destroy bacteria. It can help to ward off scalp infections while stimulating hair growth.
Boosts energy levels:
It is recommended by nutritionists to consume one glass of fresh watercress juice because it can help to increase the energy levels which can help you to stay active throughout the day.
Improves skin condition:
This is rich in Vitamin C and many different minerals which are highly efficient when it comes to maintaining your skin. It can nourish your skin from within and it will provide essential minerals and vitamins which will leave your skin supple, flawless, and soft.
Fight cancerous cells:
There are many studies in which are found that the watercress juice has antioxidants that can help in the fight against cancerous cells. It can prevent the formation of cancerous cells because it has the ability to fight against free radicals which can lead to cancer in your body.
Good for thyroid gland:
It is very important to have good thyroid health because it can lead to many different health complications. It can help you to maintain your thyroid health. This juice functions to monitor the production of thyroid hormones.
It can help to control the health condition in case of chronic diseases. It can help to lower the bad cholesterol or LDL cholesterol which can contribute to daunting problems like atherosclerosis. Also, when you consume watercress juice it can help to widen constricted blood vessels. In this way, your blood will flow without hindrance combating blood clotting. This condition can help to maintain a healthy heart. If you suffered from a cardiac arrest, then you should talk with your doctor before you start using watercress juice in your diet.
Improves bone density:
It has high amounts of calcium. It can help to maintain bone density and it can prevent the onset of debilitating diseases, such as osteoporosis. You should consume watercress juice on a regular basis because it can help to strengthen your bones and it can alleviate the risk with associated fractures. Also, the watercress juice is nourishing for postmenopausal women because they are more vulnerable to bone problems.
Works as antidepressant:
Nowadays, many people are suffering from depression. You can consume healthy foods, like watercress juice because it can help to improve your condition. It is rich in minerals, like folate. These minerals function to affect the neurochemicals – serotonin which produces results in a relaxed mind and reduced levels of depression. You should talk with your psychiatrist if you should add watercress juice in your diet if you suffer from depression.
Nourishing for expectant mothers:
Pregnant women need a lot of nutrients which can help them to have a healthy development of the fetus. This is a reason why they should opt for foods that are enriched with a high nutritional value, such as watercress juice. The watercress juice has folate which can help to strengthen the internal body which will provide nutrients to the fetus.