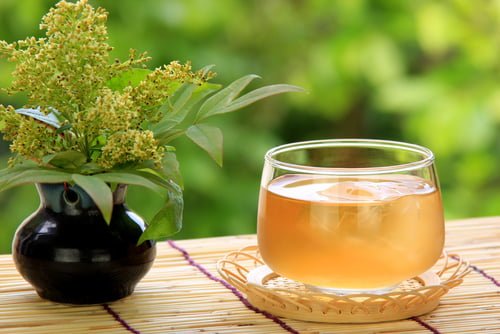 Barley tea has many health benefits such as strengthens the immune system, cleanses the blood, aid in weight loss, prevent diabetes, stimulate male fertility, settle the stomach, prevent chronic disease, treat skin conditions and improve circulation. This is a grain based tea which means that it can be a risk for people who suffer from a gluten intolerance or Celiac disease. Also it should be taken with some caution by people who suffer from diabetes because it can interact with some medications that are commonly prescribed to diabetics. You should know that the barley tea is free of caffeine. In many countries the barley tea is staple beverage, primarily in China, Japan and Korea where it is known as maicha, ugicha and boricha. It can be consumed in both states hot and cold. The roasted barley tea is aromatic, nutty, refreshing and delicious drink which is slowly beginning to gain popularity. It has many health benefits which are to its high concentrations of Vitamin A, Vitamin C, tryptophan, melatonin, selenium, amino acids and various antioxidants which are making the barley tea an excellent choice for people who want to cut back on calories and to boost their overall health. [1,2]
Health benefits of barley tea
Skin care: Barley tea has many antioxidants and all of them can help with the oxidative stress that is cause for age spots, wrinkles and premature aging. These components can also help to improve the skin elasticity and they will keep you looking younger for longer. [3]
Immune system: Barley tea has high amounts of Vitamin C which can boost your immune system by promoting the production of white blood cells. This vitamin acts as antioxidant which can counter the side effects of free radicals. [3]

Pregnant women: It is known fact that most teas are discouraged for pregnant women but the barley tea has ample amounts of folic acid, calcium, iron, niacin and potassium which are critical nutrients for pregnancy. Barley tea can keep the gestational diabetes at bay, prevent certain birth defects such as neural tube defects and spina bifida and coagulate the blood to prevent excessive bleeding during delivery. [4,5]
barley tea benefits and uses
Inflammation: Barley tea has anti – inflammatory compounds which are great for oxidative stress, gout, arthritis, joint pain and other inflammation issues throughout your body. Barley tea has antioxidants which are great for the inflammatory conditions of all kinds in which are included those that affect neurodegenerative and chronic disease. [3]
Weight loss: It is low in calories but it can make you to feel full because it has rich supply of nutrients, fiber, minerals and vitamins. This will help you to avoid snacking between meals and overeating and at the same time it will stimulate the metabolism so the passive fat burning can happen more efficiently. [6]
Diabetes: This tea is extremely low in sugar, despite its natural sweetens and it can help to regulate blood sugar and insulin balance in the body. You should replace sugary drinks such as soda with barley tea which is very helpful for people who suffer from diabetes or who have a notably lower occurrence of diabetes. [3]
Fertility: Selenium is a mineral for which many people have rarely heard but this mineral can be critical to certain aspects of the male fertility and it can protect the health of the prostate. This mineral is linked to preventing prostate cancer and barley tea has high amounts of selenium.
Sleep aid: Barley tea has melatonin and tryptophan which are making it an excellent sleep aid. If you suffer from regularly interrupted sleep, restless night or insomnia, then the mentioned components in barley tea can trigger neurotransmitter release in the brain and they aid in falling into undisturbed sleep while in the morning you will feel refreshed. [3]
Circulation: This tea is stimulating in nature and it can increase the blood flow because it is acting as an anticoagulant. This will reduce your chances of developing blood clots and it can prevent strokes, heart attacks, atherosclerosis and other cardiovascular complications. [5]
References:
[1] Kajimoto G. Chemical composition of barley tea. Nippon Shokuhin Kagaku Kogaku Kaishi. 2000.47(1):9-16.
[2] Etoh H, Murakami K, Yogoh T, et al. Anti-oxidative compounds in barley tea. Bioscience Biotechnology and Biochemistry. 2005;68(12):2616-8.
[3] Zeng Y, Pu X, Yang J, et al. Preventive and therapeutic role of functional ingredients of barley grass for chronic diseases in human beings. Oxidative Medicine and Cellular Longevity. 2018;2018:3232080.
[4] Browne ML, Hoyt AT, Feldkamp ML, et al. Maternal caffeine intake and risk of selected birth defects in the national birth defects prevention study. Birth Defects Research Part A: Clinical and Molecular Teratology. 2011;91(2):93-101.
[5] Suganuma H, Inakuma T, Kikuchi Y. Amelioratory effect of barley tea drinking on blood fluidity. Journal of Nutritional Science and Vitaminology. 2002;48(2):165-8.
[6] Ikeguchi M, Tsubata M, Takano A, et al. Effects of young barley leaf powder on gastrointestinal functions in rats and its efficacy-related physicochemical properties. Evidence-based Complementary and Alternative Medicine. 2014;4:974840.