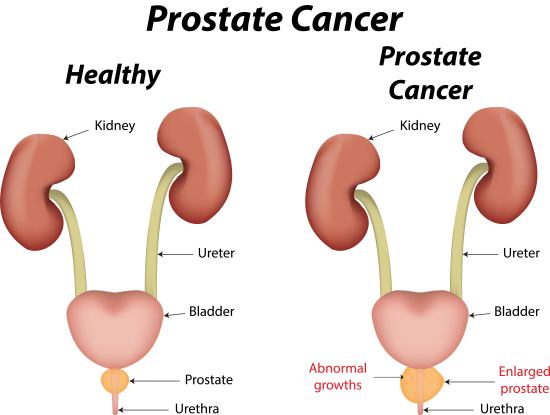 Prostate cancer occurs in a man's prostate which is small walnut – shaped gland that produces the seminal fluid which is nourishing and transporting sperm. This is one of the most common types of cancer which are found in men. Prostate cancer usually grows slowly and initially remains confined to the prostate gland where it may not cause a serious harm. There are some types of cancer which grow slowly and they need minimal treatment or no treatment. But also there are other types of prostate cancer which is aggressive and they can spread quickly. When this type of cancer is detected early (this means when it is detected when the cancer is still confined to the prostate gland), then it has a better chance of successful treatment.
Symptoms of prostate cancer
When the cancer is in its early stages, then it can cause no signs or symptoms. Prostate cancer which is more advanced may cause signs and symptoms such as
Erectile dysfunction
Bone pain
Discomfort in the pelvic area
Blood in the semen
Decreased force in the stream of urine
Trouble urinating
If you have some signs and symptoms that worry you, then you should talk with your doctor. There are many debates which are regarding the risk and benefits of screening for prostate cancer and the medical organizations around the world that differ on their recommendations. You need to talk with your doctor about the prostate screening. You should decide together with your doctor what the best solution is for you.
Causes for prostate cancer
It is not clear which is the reason that leads to prostate cancer. This type of cancer begins when some cells in your prostate become abnormal and this is a known fact by all doctors around the world. When there are mutations in the abnormal cells, then the DNA causes the cells to grow and divide more rapidly than normal cells do. The abnormal cells continue living when other healthy cells in your body are dying. These abnormal cells are accumulating and they form a tumor which can grow to invade nearby tissues. There are some abnormal cells which can break off and metastasize (spread) to other parts of our bodies.
Risk factors: Here are the factors which are increasing your risk of getting cancer:
Obesity: Obese men who are diagnosed with prostate cancer can have increased risk of having advanced disease which is more difficult to be treated.
Family history of breast or prostate cancer: People who have a man in their families who had a prostate cancer, then he has increased risk of getting this. Also people who have a very strong family history of breast cancer or who have a family history of genes that increase the risk of breast cancer (BRCA1 or BRCA2), then their risk of getting prostate cancer is also increased.
Being black: It is known fact that black men are having increased chances of getting prostate cancer compared to men of other races. In this race, this type of cancer is also more likely to be advanced or aggressive. It is not known fact why this is happening.
Complications: Complications of this type of cancer and its treatments are including:
Erectile dysfunction: This complication can be a result of prostate cancer or its treatment in which are included hormone treatments, radiation or surgery. There are some medications and vacuum devices which assist in achieving erection and surgery are available as treatment for erectile dysfunction.
Incontinence: Prostate cancer and its treatment can cause urinary incontinence. The treatment of this condition depends on how severe is this condition, the type you have and the likelihood it will improve over time. Surgery, catheters and medications are treatment options of this condition.
Cancer that spreads (metastasizes): This type of cancer can spread to your nearby organs such as your bladder. Also it can travel through your lymphatic system or bloodstream to your bones or other organs. Cancer that is spreading to the bones can cause you pain and broken bones. When the prostate cancer has spread to other areas of our bodies, it may still respond to treatment and may be controlled but in this case it is unlikely to be cured.