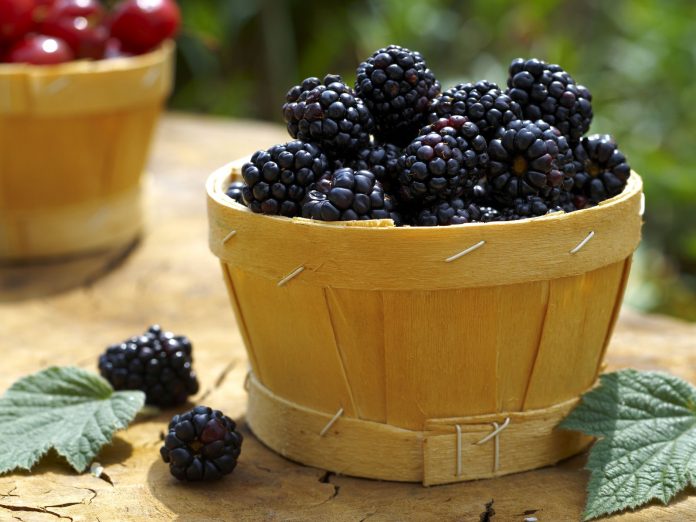 Marionberry is one of the berry cultivars which originates from the United States of America. Nowadays, it is widely used and loved all around the world because it has aromatic and intense flavor. Marionberries are known as "cabernet of blackberries" because they have rich and earthy taste. They are juice and have unique tang. These berries have many healthful components from which you can get some benefits. These berries are hybrids of the Olallie and Chehalem blackberries and both of these blackberries are hybrids of other variants of blackberry.
The fresh season of marionberries is typically between 2nd July and 24th July. Marionberries are medium – sized. In Oregon are produced 28 – 32 million pounds of marionberry on annual basis. You can find these berries in markets or grocery stores. It is best to consume it in fresh form, but also it can be found as jam, tea and preserves. Marionberries have sweet and tart taste which is a reason why they are commonly used in desserts.
The marionberry plants are trailing vines which are usually need to be supported by trellises and stakes. While marioberries are still on the vine, they appear almost black, but when they are picked and ripened, they change their color into a fleshy dark purple. These berries are normally larger and they are more conical than other varieties of the blackberry. Marionberries have also a firmer texture which is making them easier to ship to other regions.
Health benefits of marionberry
Dietary fiber: Marionberries are rich in dietary fiber. This component is very important in the regulation of bowel movements, digestion and weight. Also, it can help to prevent heart disease and diabetes. In half cup of marionberry there is the same amount of fiber as a ¾ cup of brown rice.
Anthocyanins: Anthocyanins are flavonoids that are found in fruits and some vegetables. These components are possessing neuroprotective, anti – inflammatory, antiviral and antibacterial properties. When you are consuming foods which are rich in anthocyanins, then you can help your body to cope with many toxic substances you are exposed to every day. It was noticed that anthocyanins can help a lot in the weight loss so if you want to lose your weight, then you should start consuming marionberries from today. They can help to secrete the adiponectin which is the hormone that can help to produce the feeling of hunger.
Low in calories: One of the best foods which you can add in your diet are marionberries. When you eat them, you should not be worried about calories because marionberries are low in calories. In one cup of fresh and juice marionberry there are only 75 calories. In this way you will satisfy your needs for sweet food but at the same time you will stay healthy and free of added sugars.
Anti – cancer properties: There are some studies in which are shown that marionberries have the ability to help in the treatment of cancer but this is not proven so you need to consult your doctor if you suffer from cancer and you want to add marionberries in your diet so in this way you will be sure that they will not cause you some side effects.
Antioxidants: There are some studies in which are said that marionberries have more antioxidants than typical blackberries. Marionberries are rich in gallic acid, rutin and Vitamin C. Antioxidants are very important for our bodies because they can help to minimize the production of reactive oxygen species which are reason for the gradual deterioration of the body's systems. Vitamin C is very important vitamin for the preventing inflammation, keeping the body safe from the side effects of the free radicals and regulation of the immune system function.
Ellagic acid: Ellagic acid is a polyphenol which is possessing chemo – protective, antioxidant and anti – mutagenic properties. There are some studies in which are found that this acid assist in inhibiting inflammatory conditions that stem from the obesity. You should know that marionberries have 5.83 mg of ellagic acid per gram.