The mallow essential oil has many health benefits, such as reverse the aging process, treat respiratory problems; treat indigestion; strengthen the immune system; relieve pains; reduce inflammation. Also, it can give relief from mental stress, promote hair growth, and treat skin disease.
The common mallow is a purple-colored beautiful flower that is widely used in beauty products. The mallow essential oil nourishes dry and damaged skin. There are many studies in which are proof that the common mallow can be used as a soothing agent. It is added to many herbal medicines and products to provide easy in the body inflammations.
The common mallow is native to North America, Western Europe, and Asia. The scientific name of common mallow is Malva Sylvestris. It is purple with dark veins and it has a pleasant odor. The mallow belongs to the family of Mallow genus and it has several other names, such as "tall mallow" and "high mallow" because it can grow up to three to four feet in height.
The mallow essential oil does not contain adverse effects but it is suggested to use it in moderation. You should avoid consuming it directly and you should always add water to it. Pregnant women should use the mallow essential oil after they have talked with their doctors. It is important to keep the mallow essential oil away from your children.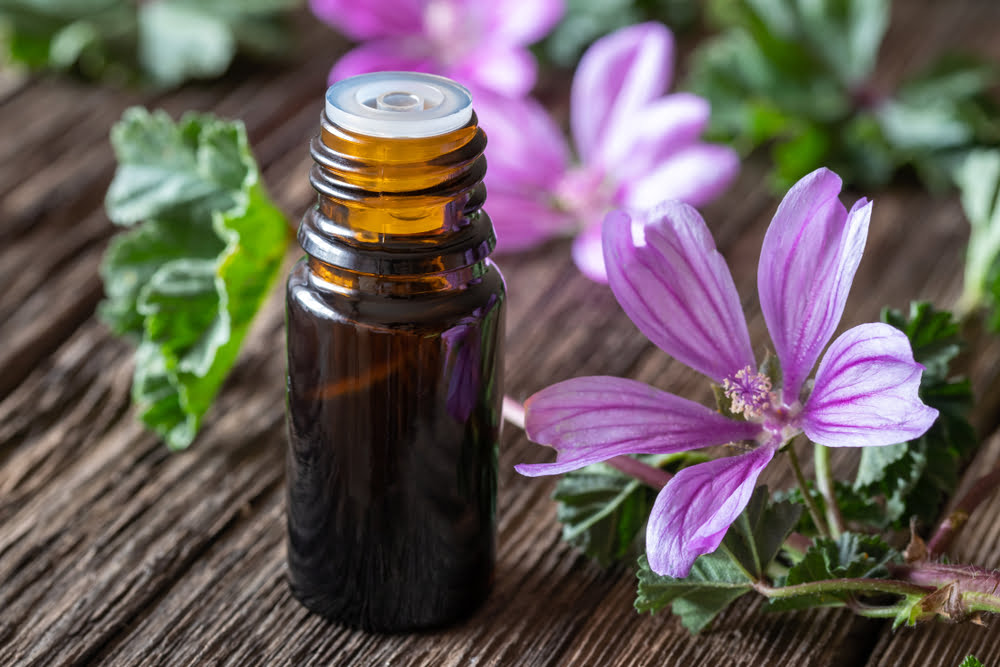 Here are some health benefits of mallow essential oil:
Good for psychological health:
There are many studies in which are proven that inhaling the mallow essential oil can give you a relief from the nerve stress to your brain nerves. When you inhale it, then it can reduce the depression and anxiety levels but you should not overdo it.
Promotes hair growth:
There are many beauty experts who are suggesting oiling for healthy hair growth. You should add the mallow essential oil with a carrier oil so in this way it can help your hair to grow faster than normal. You can make a slow and gentle massage with this natural cure because it will stimulate the blood flow and it will allow rapid hair growth. Also, it can help to prevent hair loss. Regular oiling can give life to the dry and damaged locks.
Treats skin diseases:
You can use the mallow essential oil as your home remedy for skin pigmentation, pimples, acne, and eczema. You can make a gentle massage with a few drops of mallow essential oil because it is effective for the skin. It goes deep into the pores and it rejuvenates damaged cells which will result in youthful skin. This natural oil suits all skin types but you should talk with a dermatologist before you apply it in case of extremely sensitive skin.
There are some studies in which are said that kidney stones or other similar problems can be treated with the mallow essential oil. There are no studies in which are said that you should consume the mallow essential oil directly to dissolve the kidney stones so you should avoid it.
It is a known fact that indigestion is one of the most common health problems which is affecting children and adults. You should not ignore this problem because it is a common problem which can be cured. It is known that the upset stomach brings discomfort which is draining in most cases.
The mallow essential oil has properties that can help you to regulate your bowel movements and they can help to eliminate bloating. The haling components of the mallow essential oil can bring discomfort to your disturbed stomach as well.
Good for the immune system:
We know that half of our health depends on the immune system. The immune system is responsible for killing bacteria, free radicals, and infected cells which can cause daunting health problems. There are some studies in which are said that the mallow essential oil is good for the immune system but you should not consume it directly. This oil can be added to herbal medicines which can help to prevent various bacterial infections which can weaken your immune system.