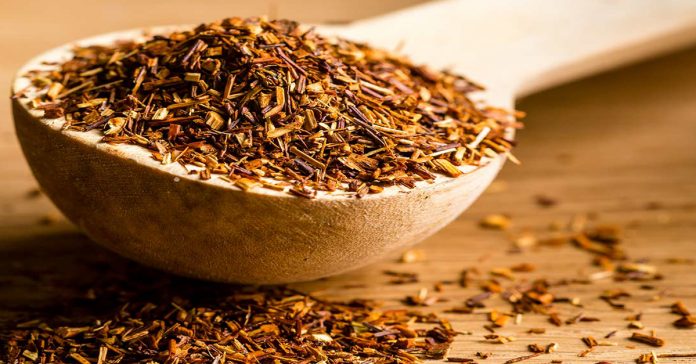 Rooibos properties
If you see the rooibos plant in wild, then you can easily mistake this plant for a weed. But there are some studies in which are said that South Africans have discovered the benefits of rooibos a long time ago.
This plant belongs to the legume family of plants. Rooibos was mistakenly identified as a tea plant but it is an herb which is commonly used as tea.
The traditional rooibos is a natural product which has no colorants, additives or preservatives. The best way in which you can get the benefits of rooibos is to drink it as tea.
It is very healthy and it can prevent many hair, skin and health problems but also it can help you to get a healthier lifestyle.
Red Rooibos and Green Rooibos
The green or unfermented rooibos has a mild taste while the fermented rooibos has a sweet taste.
The red rooibos has no oxalic acid which means that it can be consumed by people who have kidney stones.
You can find rooibos tea in the markets. There are no known side effects of rooibos tea but consult your doctor before you start using it as part of your diet.
10 Rooibos health benefits
Weight loss
The fermented rooibos has a sweet taste. When you replace your regular tea with rooibos tea, then it will help you to avoid the intake of sugar. This is one of the best ways to control your appetite and it will shed the extra pounds from your body.
Helps relieve stress and hypertension
The rooibos is an herb which does not have caffeine and it has no kilojoules. When we consume caffeine, then it can raise the blood pressure of our body and this can cause hypertension and stress. There are some studies in which are shown that the consumption of rooibos tea is very effective for controlling the blood pressure level of the body, preventing hypertension and stress.
Prevents heart attacks, strokes and cancer
Rooibos has antioxidants which bind the free radicals in the body. This can help to prevent it from oxidizing with the cholesterol and clog blood vessels. If you have clogged blood vessels, then they can cause stroke or heart attack. The rooibos has antioxidants which can prevent cancer and cell damage.
Boosts immune system
Rooibos has a unique and complex blend of antioxidants. The antioxidants in the rooibos boost our immune system which can help us to maintain fitness while at the same time they will keep us healthy from within.

Promotes healthy skin
This plant has high amounts of vitamins and minerals like zinc and Vitamin D which can make your skin healthy and shiny from the inside. When you drink rooibos tea, then it will give you beautiful skin and at the same time, it will remove dead cells from the skin.
Prevents gray hair
We live in the modern era where stress and pollution are increased. In the past, people who were over 40 have gray hair. But nowadays with these factors, gray hair is no longer a symptom of aging.
Rooibos has high levels of copper which can help to prevent the premature graying of the hair. You should sip a rooibos tea for your hair without a hint of gray.
Boosts hair growth
The regular consumption of rooibos tea can increase hair growth. Rooibos is rich in minerals such as potassium, copper, calcium and zinc which can promote the hair growth and at the same time, it will strengthen the hair roots.
Alleviate bacteria infections
The rooibos has hypoallergenic and anti-bacterial properties. These properties will help you in the fight against bacterial infections on the skin and can prevent them from happening again. Also this tea can help you to get a relief from allergies.
Prevents skin disorders
Rooibos has high levels of flavonoid which can help to prevent skin disorders like acne and eczema. You can drink rooibos tea or you can apply it directly to your skin to fight acne. It can lead to healthier skin.
Anti-aging properties
This plant is rich in antioxidant properties known as superoxide dismutase. It is known that this antioxidant is having anti-aging properties. This component can help to reduce wrinkles and it can boost the production of healthy skin cells.