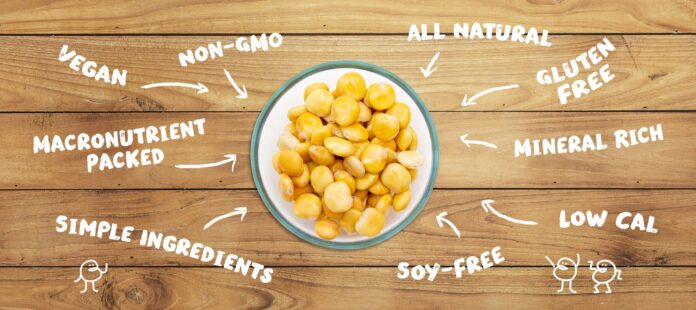 Many people have never heard about lupin beans before, but they are extremely healthy, so you can add them to your diet. The scientific name of lupin beans is Lupinusalbus. The origin of lupin beans is from West Asia and the eastern Mediterranean region of southern Europe. The seeds of the lupines plant are lupin beans. They are yellow legume seeds, which take part of the Lupinus genus. In traditional cuisine, they are eaten as a pickled snack food, primarily in the Latin America and Mediterranean basin. The taste of lupin beans is slightly bitter.
The lupin beans have high alkaloid content, which is a reason why they are bitter and even toxic to eat without the proper preparation. But, when lupin beans are cooked correctly, then they are nutritious and tasty. Sometimes, lupin beans are eaten pickled as a snack. The lupin beans are soaked in the water for two to three hours to smooth the flavor and then, they are consumed raw. Roasted seeds of lupin beans are used as a coffee substitute.

Here are some health benefits of lupin beans:
Strengthen bones:
It is very important to maintain the health of your bones, because this can help you to avoid suffering from problems, like fractures, osteoporosis, etc. Phosphorus and calcium are present in abundant amounts in lupin beans and they are essential to make the bones strong and healthy. They are working together to make our bones and teeth healthy. It is noticed that about 85% of phosphorus is present in our bones and teeth.
Protects the heart:
Many people can have heart problems, like heart failure, myocardial infarction, heart attack, or atherosclerosis. Some of the main reasons for these heart problems are high blood pressure, high blood sugar levels, and high cholesterol. There are some animal studies in which are shown that the lupin extract can help to reduce the development of atherosclerotic lesions. Also, lupin beans can help to reduce high blood pressure, high blood sugar levels, and high cholesterol which are some of the biggest factors for heart diseases.
Helps in weight loss:
It is known that lupin beans have high amounts of fiber, which can make you feel satisfied for a longer period of time. As a result of this, people who consume lupin beans, consume fewer amounts of other foods in their meals. This can help them to lose weight. Also, in some studies was said that lupin beans can help to reduce BMI and waist circumference.
Beneficial for hair:
We know that our hair is made of proteins. The lupin beans have high amounts of protein which can help in the formation of a healthy hair structure. Also, the high content of protein in lupin beans can make the hair strong, thick, and difficult to fall or break down. Also, our hair needs enough vitamins and minerals for healthy growth. The lupin beans have all of the mentioned nutrients which can help to promote healthy hair growth.
Boost immune system:
It is very important to have a healthy immune system, so it will fight against all infections. We need to have a diet rich in vitamins and minerals, so it can help to strengthen our immune system. You can add lupin beans to your diet, because they have all the essential vitamins and minerals, like Vitamin A, Vitamin B complex, and Vitamin C. All of the mentioned vitamins are needed for making our immune system strong, especially the Vitamin C in the lupin beans, which can help our immune system to fight against flu and cold.
Beneficial for skin:
The lupin beans have antioxidants that can help in the fight against free radicals. We know that free radicals can damage our skin and lead to premature aging. Also, they lead to the development of age-related changes, like age spots, wrinkles, and fine lines at a young age and make us feel uncomfortable. The lupin beans have antioxidants that can prevent early aging and reverse the signs of aging like wrinkles. Also, the lupin beans have vitamins and minerals which can nourish your skin and they can make it healthy and glowing.