Lung cancer is a type of cancer that is malignant. This means it can spread to other parts of your body. This type of cancer begins in the cells of the lung. When this cancer begins in the cells of the lungs, then it is known as primary lung cancer. Cancers of the lung are divided into SCLC (small cell lung cancer) and NSCLC (non – small cell lung cancer). These divisions are based on the type of cell in which the lung cancer started. There are some studies in which is shown that 70% of lung cancer in women and 90% in men can be prevented by smoke – free environment [1]. Also there are other carcinogens which can cause lung cancer such as asbestos, arsenic, uranium and radon gas. You need to talk with your doctor before you start using some of the mentioned home remedies because we do not guarantee that they will help you and you will not have any side effect from their usage. Here are some home remedies and lifestyle changes which you can for the natural treatment of lung cancer:
Natural lung cancer treatment
Yoga: For people who do not know, yoga is a series of body poses which combines stretching with breathing as a form of moving meditation. There are many studies in which is shown that this technique can give you a relief from insomnia, depression and anxiety [2,3]. Also it can promote a sense of well – being. Yoga can help people who suffer from lung cancer to relax and sleep better. Inverted yoga poses help blood flow from the legs and pelvis to the heart and even through the lungs where it becomes freshly oxygenated.
Nutrition: For people who suffer from lung cancer there is not set diet plan. The nutritional needs of some patient can change throughout his treatment. But there are some foods which affect a person's lung cancer symptoms. It is very important for people who suffer from lung cancer to maintain a healthy weight and to get the nutrients and energy they need to go through this treatment. Here are some nutrition tips for people who suffer from lung cancer:
Eating high – fiber foods to ease constipation
Eating bland foods if your stomach or mouth are sore
Eating sitting up and not lying down after eating
Avoiding dietary supplements unless you talk to your doctor first
Drinking mint and ginger teas to reduce nausea
Eating several small meals throughout the day instead of a few large meals
Consuming liquid or pureed meals if you are having trouble eating solid foods
Using herbs and spices when cooking to make food more appealing
Supplementing your diet with high – calorie drinks if needed
Eating whenever you feel hungry
You should avoid low – calorie or non – nutritious foods and drinks like sodas and chips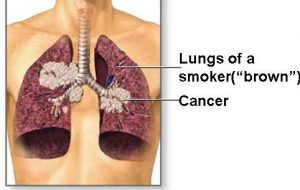 Natural treatment for lung cancer
Meditation: This is a state of silent inner reflection which helps to quiet the mind from the things which are happening outside. This can be very helpful for reducing tension and stress which are associated with managing lung cancer [4]. Meditative deep breathing techniques can also help to people who suffer from lung cancer and it boosts the function of their lungs.
Hypnosis: There are many therapists who are using hypnosis to put you in state of heightened concentration and focus. There was one study which was done by the Wellness Institute in which was said that this natural treatment can help ease pain, nausea and anxiety which are associated with the cancer. Also this natural treatment can help to people who suffer from lung cancer to quit smoking. [5]
Massage: This natural treatment can ease pain and it can promote relaxation. Massage therapists use their hands or feet to apply pressure to relax tight muscles and to help you to get a relief from the tension and pain. People who suffer from lung cancer will usually feel pain in the nerves or muscles around their shoulders, upper back, neck or chest [6]. If you suffer from lung cancer and you are looking for a massage therapist, then you should seek for therapist who has experience in treating people with cancer. These therapists will know the correct massage techniques to use which depend on your cancer stage and the treatment status.
Vitamins: It is very important to have healthy diet because it can help you to have healthy immune system. You should include these vitamins in your diet:
Zinc: slows the immune response and control inflammation in your body
Vitamin C: helps to repair and regenerate tissues and aids in the absorption of iron
Selenium: slows the body's overactive responses to certain aggressive forms of cancer
Vitamin E: a powerful antioxidant that helps your body fight off infection
Folate: this is the key in development of red blood cells (a lack of folate can make the body susceptible to cancer)
Vitamin B6: supports adrenal function and is necessary for key metabolic processes
Vitamin D: modulates cell growth, promotes neuromuscular and immune function and reduces inflammation
Vitamin A: this vitamin aid immune function and helps provide a barrier against infections
Herbal supplements: In the Chinese history, more than 133 herbal supplements have been used to treat the lung cancer. These supplements are used alongside conventional treatments such as chemotherapy. It is believed that some supplements can ease the symptoms of lung cancer and the side effects of lung cancer treatment and that even it can kill cancer cells [7]. You need to talk with your doctor before you start using some of the mentioned herbal supplements about the proper dosage and the treatment for you. Here are the most commonly used herbal supplements:
Asparagus root: It is believed that this supplement can kill and prevent lung cancer cells from growing.
Oldenlandia diffusa: This herb is also known as snake – needle grass. It is believed that this supplement has ability to kill lung cancer cells.
Poria: This herb is also known as fu ling. It works as a diuretic in patients who experience edema (which is a fluid retention beneath the skin), it improves the sleep in insomnia patients and it reduces phlegm.
Gan cao: Gan cao or licorice root, as many people know it, is known expectorant which accelerates mucous secretion and it is usually prescribed to relieve shortness of breath and relive cough.
Nan sha shen: This home remedy is also known as American silvertop root. It acts as antibiotic and usually it is used to treat dry coughing  which is working by reducing cancer – promoting chemicals in the body, tissue permeability and inflammation.
Astragalus: This natural cure enhances the efficiency of chemotherapy drugs, prevents tumors from spreading, slows tumor growth and it boosts the immune system.
In the most cases it is not harmful to take herbal supplements along with your regular treatments for lung cancer. But also there are some cases when these herbs can cause serious complications or side effects. This is a reason why you need to talk with your doctor before you take any herbal supplements preparations.
Aromatherapy: Aromatherapy is using essential oils to stimulate the part of the brain which affects the emotion. There are some studies which were done by the National Cancer Institute and in them it was said that essential oils have diseases fighting capabilities. It is known fact that the essential oils have energizing or calming qualities. There are many studies which have shown that essential oils can promote mental and emotional wellness by reducing these symptoms: nausea, pain, depression and stress [8]. Here are the most commonly used essential oils for the treatment of lung cancer:
Rosemary, which relieves pain and congestion
Peppermint, which fights nausea
Jasmine, which is uplifting
Frankincense, which is meditative
Lavender, which promotes calmness
In one study was shown that the thyme essential oil is capable of killing some cancer cells in which are also included lung cancer cells in the laboratory [9]. You should add a few drops of essential oil to jojoba oil. You should apply this natural cure to pressure points such as neck, wrists and behind the ears. Also you can add a drop of this natural cure to your favorite face wash or you can add four to five drops of it to your relaxing bath.
Acupuncture: This is a traditional Chinese medicine. This type of natural treatment is based on the stimulation of specific points on the body with very thin needles. This natural treatment is used to restore the natural flow of energy in the body. There are many scientists who believe that the root cause for the lung cancer is the disharmony of the energy. Nearly all people who suffer from lung cancer face symptoms related to their disease or treatment. The most common symptoms include: poor well – being, depression, pain, nausea and anxiety. Acupuncture can be very effective natural treatment in managing vomiting and nausea which are associated with chemotherapy. Also this natural treatment can help to manage the pain after surgery. [10]
References:
[1] Colditz GA, Wei EK. Preventability of cancer: The relative contributions of biologic and social and physical environmental determinants of cancer mortality. Annual Review of Public Health. 2012;33:137-56.
[2] Bridges L, Sharma M. The Efficacy of yoga as a form of treatment for depression. Journal of Evidence-based Complementary & Alternative Medicine. 2017;22(4):1017-1028.
[3] Shohani M, Badfar G, Nasirkandy MP, et al. The effect of yoga on stress, anxiety, and depression in women. International Journal of Preventive Medicine. 2018;9:21.
[4] van den Hurk DGM, Schellekens MPJ, Molema J, et al. Mindfulness-Based Stress Reduction for lung cancer patients and their partners: Results of a mixed methods pilot study. Palliative Medicine. 2015;29(7):652-60.
[5] Montgomery GH, Schnur JB, Kravits K. Hypnosis for cancer care: Over 200 years young. CA: A Cancer Journal for Clinicians. 2013;63(1):31-44.
[6] Sagar SM, Dryden T, Wong RK. Massage therapy for cancer patients: a reciprocal relationship between body and mind. Current Oncology. 2007;14(2):45-56.
[7] Satia JA, Littman A, Slatore CG, et al. Associations of herbal and specialty supplements with lung and colorectal cancer risk in the VITamins And Lifestyle (VITAL) Study. Cancer Epidemiology, Biomarkers & Prevention. 2009;18(5):1419-28.
[8] Yap PSX, Yiap BC, Ping HC, Lim SHE. Essential oils, A new horizon in combating bacterial antibiotic resistance. The Open Microbiology Journal. 2014;8:6-14.
[9] Sertel S, Eichhorn T, Plinkert PK, Efferth T. Cytotoxicity of Thymus vulgaris essential oil towards human oral cavity squamous cell carcinoma. Anticancer Research. 2011;31(1):81-7.
[10] Kasymjanova G, Grossman M, Tran T, et al. The potential role for acupuncture in treating symptoms in patients with lung cancer: an observational longitudinal study. Current Oncology. 2013;20(3):152-57.