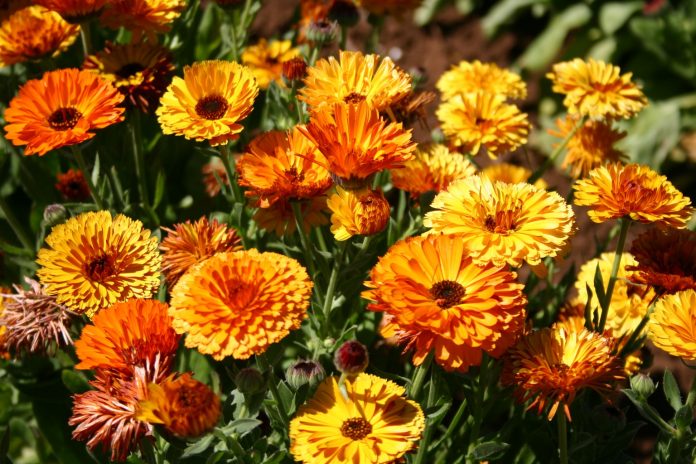 This is herbal plant. Its flowers are used to prepare medicines and especially homeopathic medicine. It is also known as marigold. It posses anti – inflammatory properties and it can naturally heal wounds, cuts and other inflammatory skin diseases. Calendula has many health benefits and also it is used for culinary purposes. The petals of calendula are edible and they are used in different salads to lend great taste to them. Calendula grows in huge amounts in Russia. It is also known as the "Russian penicillin". There are some people who have shown allergic reactions to the use of calendula oil if it is used in high doses and concentrations. You should talk with a trained herbalist or medical professional before you add it to your health regimen because in this way you can avoid any major side effects.
Some health benefits of calendula:
Protects liver: Calendula can help to cleanse the liver and it can help in proper bile secretion. As a result of this, your body will carry out various processes properly and it can help people to have a healthy life.
Heart health: This herb will keep your heart healthy and it can help to prevent cardiac disorders, like deposition of cholesterol, heart blockages, cardiac arrests and heart ailments.
Protects from cancer and arthritis: Calendula is rich in vitamins and minerals. You can drink calendula tea as a health drink. Calendula has beta – carotene which can cut down the risk for rheumatoid arthritis, bone – joint inflammation and cancer.
Fights fever: When you have high fever, then you should know that this is not a disease in itself, but it is a symptom of underlying health issue. Fever can be scary and it can drain you of energy. This herb can bring down the body temperature safely and it will give you a relief from it..

Health benefits of calendula
Improves digestive system: It is recommended drinking calendula tea as a natural treatment for keeping the digestive system healthy. This home remedy works deep inside the body to treat ulcers, upset stomach and bladder infections. Also it can prevent the occurrence of metabolic ailments, cleanse your digestive tract and it can help you to rid of the digestion related disorders.
Heals inflammation: Calendula can be used as a natural treatment for hemorrhoids and genital inflammation. For this purpose you can use the calendula tea. Also you can make a bath by using the calendula tea because it will give you a relief from the swelling and pain.
Soothes sore throat: Calendula tea can be used as a soothing agent for sore throat. Also it can be used to heal tonsillitis. Calendula has anti – inflammatory properties which work on the inflamed mucus membranes to provide instant relief.
Good for mouth health: When calendula tea is used on regular basis, then it works as a mouth wash and it can heal many mouth related disorders like gingivitis.
Natural hair dye: You can use the calendula tea to provide blonde or brunette highlight to the hair and it will keep you in sync with the current trend.
Helps in hair growth: One of the major causes of hair fall is dandruff. Also damaged scalp can lead to hair fall. You can use the calendula oil to heal both conditions and also your hair will grow stronger. It has regenerative properties which can help hair follicles to grow abundantly and this will give you a thicker mane.
Gives dandruff free hair: The calendula oil can be used to hydrate the scalp and also it can help you to rid of the dandruff. When you apply it on regular basis, then it can help you not to have dandruff anymore.
Soothes contact dermatitis: Calendula can prevent the occurrence of dermatitis which can be caused by exposure to radiation therapy. Also calendula ointments can be effective natural treatment for diaper rashes in infants.
Cures fungal skin infections: Calendula has anti – fungal properties. As a result of this, calendula can help to cure infections such as athlete's foot and ringworm.
Prevents acne: Calendula has antibacterial properties which can help to clear the bacteria in the skin pores which can lead to acne outbreak.