Rosewater is also known as "Gulab Jal". This is a by – product of the production of rose oil. Rosewater is one of the most used ingredients in cosmetics, perfumes, and medication and food preparations. Rosewater was highly prized since ancient times for its source of perfume, nutritional properties and medicinal use. The important and potential of rosewater in the skincare regimens is incomparable. It can help to maintain the skin pH levels. When the rosewater is used as a cleanser and toner, then it can help the skin bound with the goodness of the world. It can help to revitalize the aging skin and also it will keep the wrinkles and fine lines at bay. It has antioxidant properties which can help to strengthen skin cells and regenerate skin tissues. Rosewater can also calm eczema, dermatitis and can. It can help to calm the spirit and skin and also it eases anxiety and stress.
Some health benefits of rosewater:
Improves scalp health: The rosewater can help to increase the blood circulation in scalp. As a result of this property, the general scalp health is improved and fungal infections, oil and dandruff and other similar problems which originate in the scalp are greatly reduced. You can mix rose essential oil with any other carrier oil like jojoba oil and massage this mixture on your scalp because in this way you will get the maximum benefits. Also you can dab rosewater on your water.
Fights infections: Rosewater has anti – inflammatory and anti – fungal properties. You can rinse your scalp with rosewater every few days because in this way you will keep the infections at bay. Also you can make your own conditioner and shampoo with the rosewater. You can dilute your hair care products with rosewater.
Sunburns: You can chill rosewater and then use it to soothe your sunburned skin.
Dry skin: If you have dry skin, then you can add some glycerine to the rosewater and then apply it to your skin and let it stay there for some time.
Reduces dark circles under eyes: You should use fresh rosewater as eye drops to prevent and reduce dark circles under your eyes and puffiness. Also this will clean your eyes in a gentle manner and it can help to calm down the heat.
Glowing skin: You should add a few drops of rosewater into your bathwater because this can help you to get a glowing skin. Also this natural treatment will relax and soothe your mind and body.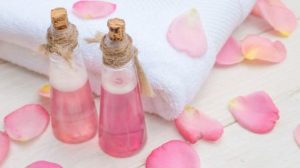 health benefits of rosewater
Reduces dandruff: Dandruff is very annoying condition but also it can be persistent. You can use rosewater because it will moisturize your hair and it will leave your hair well moisturized and conditioned. You should make a mixture of rosewater and fenugreek seeds to rid of the dandruff. You should soak the fenugreek seeds in rosewater in a period of few hours until they become soft and you mash them into a paste. You should apply this paste all over your scalp. You should let it stay there for one hour and then shampoo your hair as usual. If you apply it once a week, then it should solve your dandruff problem.
Eye fatigue: You should mildly soak cottons swabs in rosewater and place it over your eyes to soothe, cool and relax the eyes of fatigue.
Skin irritation: You should wash your face with rosewater to reduce the skin irritation that is caused by breakouts, redness, pimples and acne.
Improves strength and quality: You can use the rosewater to improve your hair if it breaks easily or it has degraded in quality. In the ancient Chinese medicine, the rosewater was used as a hair strengthening remedy. Rosewater can increase the circulation of blood in the scalp. The increase blood circulation rejuvenates the hair follicles and it is making them strong. This can help in better exchange of nutrients from the scalp to the tip of the hair. As a result of this, improved hair quality and reduce hair breakage should be expected. You can try making your own rosewater conditioner or shampoo. Also the good rinse with rosewater every few days will help. Also you can mix rosewater with Vitamin E and you should apply it once a week.