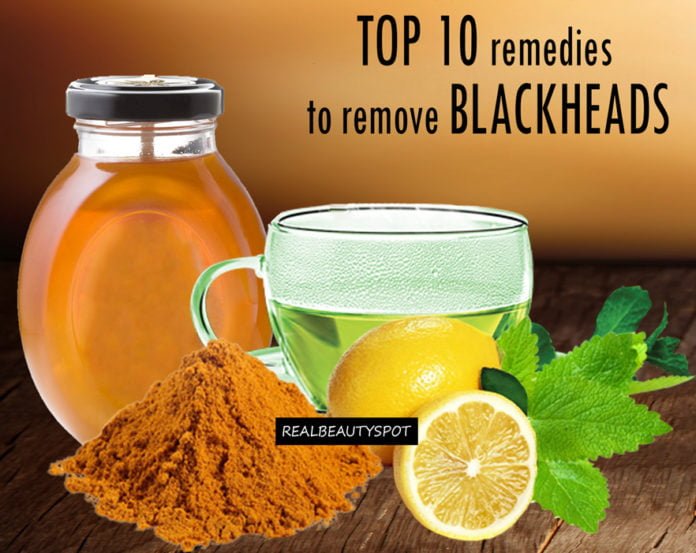 There are many problems with skin. If you are not making all the hygiene like it should be done you can be easily infected with many types of skin infections. One of this skin conditions are blackheads. Blackheads are symptoms of acne in which the pores of the skin become blocked. Blackheads can be seen in the very different ages, but they are most often in teenage and adolescent years. Hormonal change during puberty is one of the most known ways for having this condition. Other causes of blackheads are use of cosmetic products, stress, genes, improper skin care. If you are not treating them right, they can spur acne breakouts. There are many fabric medicines, but always is better to try nature medicines, because they are easy to use and have made very know effects. In order to help you, we are writing here about some natural remedies for blackheads.
Blackheads – Home Remedies and natural cures
Egg White Mask: This easy mask can be easily prepared into your home. In order to make this mask you should have an egg, some pieces of facial tissue, small bowl and a clean towel. You should separate the white from the yolk. Wash your face and put dry your face. After this apply thin egg's white layer over your skin. Put gently tissue on you face in order to apply the layer. When the first time is done, you should repeat this two more times. You can also apply this mask five times per day, but you always need to be sure that all the layers are dry in order to put the next layer. [1]
Honey and milk: We all know that milk and honey are used to protect our skin. Lastic acid which is component of the milk can keep your skin soft. Honey has antibacterial ingredients that are useful for skin care [2,3]. Both are good to remedy blackheads fast. To make mask from this two ingredients, you have to have one teaspoon of milk, one tablespoon of raw organic honey and clean strip of cotton. Put the honey into the milk. Heat this mix 5-10 minutes into microwave. When the temperature is comfortable for your skin and the mix is like a paste, put on your face. Then put cotton after your layer. Let this mask dry. After this you should wash your face with cold water. It is good to wait at least 20 minutes to apply the paste over your skin to dry properly.
Green tea: Vitamins which are green tea properties can help your skin and reduce inflammation of acne-prone skin [4]. You should boil eight ounces of water; remove from the heat and to put bags of green tea in the hot water for one hour. Put the liquid into the ceramic bowl and cool until lukewarm. Put this liquid on blackheads for ten minutes and let them dry. After that you should wash your face with water, pat dry and moisturize. This should be done once per day.
Cinnamon: Cinnamon is other natural remedy for clearing the blackheads. Cinnamon contains anti-bacterial spice which can be used to make an aromatic mask. To make this mask you need one organic cinnamon and two tablespoons of honey. Then apply one thin layer on your face. Let the mask dry, at least fifteen minutes. After the layer is dry, you should wash your face with water. [5]
Baking soda: Soda is one of the best ways to clear your blackheads in natural way. Put one tablespoon of soda into ceramic bowl mixed with small amount of water. Apply layer of soda on your blackhead and let them dry. Then clean your skin with lukewarm lemon.
Lemon and milk: To prepare this mask you should have two tablespoons of milk and 4 teaspoons of lemon juice. Mix this well and apply on your infected skin. Then let dry this layer at least 30 minutes. After the mask is dry wash your face with warm water. You should apply this mask daily. If you do not want to use milk, than you should use rosewater which will give you the same result as the milk.
Toothpaste and salt: If you need fast result you should use the mask of mixed toothpaste and salt. Wash your face with mild face wash. You should have one tablespoon of salt and some toothpaste. Mix this mixture and carefully put on your face. Rub it for one minute and after this you should wash your face with warm water. You will see instant results.
Oatmeal: To make a paste you should mix one teaspoon honey and juice of four tomatoes in sufficient oatmeal. Put this mask on your skin. Let it dry for 10 minutes. And after this you should wash your skin with water. Repeat this every day to have better results. [6]
Turmeric: Turmeric is most used for small burns, but also can be used for blackheads. Mix two tablespoons of mint juice and turmeric powder. Apply this mix on the affected areas. Allow to dry this mask and after that wash the infected area with lukewarm water. You can also make paste with mixing milk, turmeric powder and red sandalwood. Let it dry on the skin for ten minutes and after that wash your face with water. [7]
Epsom Salt: In a little hot water mix one tablespoon of Epsom salt and few drops of iodine until the salt dissolves completely. This mix should be in room temperature. Use cotton to apply this mixture on affected area. Let this mask to dry. Use a clean washcloth to wash your affected areas.
Cornmeal: Cornmeal is acting like abrasive and it is cleaning the pores of your skin. Mix one tablespoon of cornmeal with some of your regular facial cleanser. Use stream to help opening your pores and after that apply this mix. Apply this mixture gently on your skin in a circular motion. After the mixtures is dry, wash your face with cold water. This can help to close pores.
Sugar and olive oil: if you want to prepare this mixture you need one tablespoon of sugar and one tablespoon of olive oil. Mix both together. Rub this mask for one minute in the affected areas. After this you should wash your face with cold water. If you have acnes, you do not need to rub your skin. To have better result for this mixture you can also add lemon juice.
Honey and cinnamon: This is a wonderful combination to get rid of blackheads. Cinnamon is good to improve your skin blood pressure and honey has antibacterial properties. This mixture will not just clean your skin from blackheads, but also will make take away your acnes and your skin will be smooth and easier. For this mixture you should have one teaspoon of honey, one teaspoon of cinnamon powder and clean strips of cotton. Mix the honey and cinnamon powder together to make a paste. When the mix is done put thin layer on your affected areas. Let the mask dry. After 3-5 minutes you should clean gently your skin. To have better results you should use a moisturizer.
Tomato mask: To make this mask you should have a medium size tomato and mash it with your hand or with fork. Apply this mask on your face affected with blackheads. You should let this mask on your face for fifteen minutes. After this clean your face with water. To make your skin to be softer you can also add extra virgin olive oil when your skin is dry. [8]
References:
[1] TNN. Treat blackheads with egg white. Entertainment Times. 2013. Retrieved from timesofindia.indiatimes.com/life-style/beauty/Treat-blackheads-with-egg-white/articleshow/16396667.cms
[2] Mandal MD, Mandal S. Honey: its medicinal property and antibacterial activity. Asian Pacific Journal of Tropical Biomedicine. 2011;1(2):154-60.
[3] McLoone P, Warnock M, Fyfe L. Honey: A realistic antimicrobial for disorders of the skin. Journal of Microbiology, Immunology and Infection. 2016;49(2):161-7.
[4] Science of Acne. Green tea. 2019.
[5] Kasim NN, Ismail SNAS, Masdar ND, et al. Extraction and potential of cinnamon essential oil towards repellency and insecticidal activity. International Journal of Scientific and Research Publications. 2014;4(7).
[6] Criquet M, Roure R, Dayan L, et al. Safety and efficacy of personal care products containing colloidal oatmeal. Clinical, Cosmetic and Investigational Dermatology. 2012;5:183–93.
[7] Daily JW, Yang M, Park S. Efficacy of turmeric extracts and curcumin for alleviating the symptoms of joint arthritis: A systematic review and meta-analysis of randomized clinical trials. Journal of Medicinal Food. 2016;19(8):717–29.
[8] Story EN, Kopec RE, Schwartz SJ, Keith Harris G. An update on the health effects of tomato lycopene. Annual Review of Food Science and Technology. 2010;1.