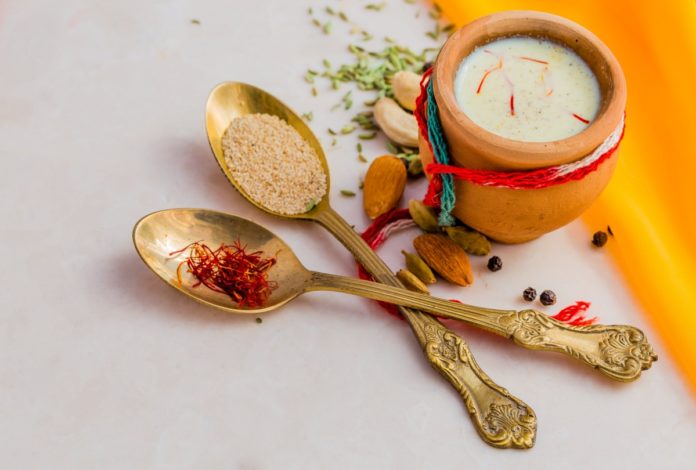 This is a refreshing milk based beverage which is associated with the Holi festival. During the hot summer days, thandai will make you to feel cooler but also it has many other health benefits. It has a sweet taste. It has rose water, watermelon seeds and fennel which are making it excellent cooling agent. Also, it serves as an instant energizer in the scorching summer heat. This type of beverage is closely associated with bhang. On Holi, this drink is served along with bhang to intoxicate the beverage.
Thandai has ingredients that are giving it many health benefits. The health benefits of thandai depend on its ingredients. The homemade thandai is one of the best choices for you during the hot summer days. If you do not like cow's milk, then you can add coconut milk or almond milk so in this way, you will have extra benefits. Thandai is full of seeds, nuts and medicinal spices which are balanced together in a form of a tasty summertime beverage. You can drink it like a milkshake, shake it like a frappe or add it to flavor your lassi.
Health benefits of thandai
Giving you energy: Thandai has almonds, pistachios and watermelon seeds and pumpkin seeds which can give you energy. These components will give you an instant energy when your body feels drained by the summer heat. Almonds are rich in protein and good fats. Also, they have Vitamin E that is very effective for your skin and hair. Also, almonds are god for your heart.
They are rich in fiber which can help you in the weight loss. Pistachios can help in the hemoglobin production because they are rich in Vitamin B6. It can boost your immunity so you have fewer chances to get cold. Like almonds, pistachios are rich source of Vitamin E and fiber which can make you to look good. Watermelon and pumpkin seeds are great source of energy. Also, they are rich in minerals, vitamins, protein and fiber. Watermelon seeds are rich in iron while pumpkin seeds are rich in zinc.
Cooling effect: We know that the beginning of the summer in a combination with fried snacks during Holi can often lead to indigestion and over-heating of the body. Thandai is a must – have drink during summer because it can cool the body temperature from the inside. This is a reason why special cooling agents are added to thandai to balance and regulate the heat of the body.
Thandai has poppy seeds, fennel, rose petals/rose water, mishri and cow's milk. Poppy seeds are used a lot in the Indian cuisine due to their cooling properties. They are rich in minerals, like zinc, iron and phosphorus. In the summer hot days, these seeds can quench the thirst and help during the irritation and constipation of the abdomen. Fennel seeds are good cooling agent from the inside and they will keep your body internally cool. Rose petals have a cooling effect on the body and they can prevent the body's temperature from rising during the summer. Mishri will help you to prevent from catching cold in the summer days. Cow's milk is rich in Vitamin K, Vitamin D and calcium. Also, it is rich in Vitamin B12 and good – quality protein.
Boosts immune system: It is very important to stay healthy in the summer hot days when viruses and infections can be easily spread. Peppercorns, cloves, green cardamom and saffron are parts of thandai which will boost your immune system. Peppercorns will boost the immune system and they will help to fight against cold. It has antibacterial properties that will fight against infections.
They are good for digestion. Cloves, like peppercorns, have great medicinal benefits which are making them a great addition to thandai. They can boost the immunity and also, they will aid in better digestion during the summer. Also, they are rich in essential vitamins and minerals. Green cardamom can help in the fight against infections, detoxifies the body and it is very effective for vomiting and nausea. Saffron has therapeutic and anti – septic properties. It gives a rich flavor to the thandai but also, it can help to have better digestion during the summer days.