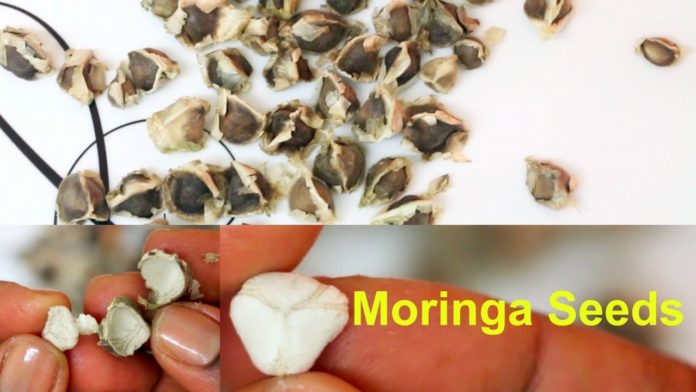 Moringa seeds have many health benefits, such as detoxify the body; improve eye vision; increase energy levels; prevents infections and illness; improves digestion; improves sleep; purifies water; improves skin health; maintains cholesterol and blood pressure and reduce blood sugar level. Moringa Oleifera is also known as tree of life. Moringa is a very effective home remedy for many different problems.
Moringa seeds have also health benefits. Moringa has slender and long triangular seedpods. Moringa is considered native to the Himalayas, specifically the southern and northwest foothills of India. The young moringa seeds are mostly cultivated in subtropical areas and they are harvested annually. The average seedpod is a foot high and it produces dozen seeds. Moringa seedpods yield hundred of seeds and they are consumed in many different ways. Moringa seeds can be boiled, steamed and roasted to be used as snacks. These seeds are good substitute for high sugary foods. This seeds are also used by people to boost their potassium and Vitamin C levels.
Health benefits of moringa seeds
Detoxifies the body: Moringa seeds are an excellent way to detoxify your body from many different toxins. These seeds have chlorophyll which is possessing antioxidant properties that can help your body to stay clear from free radicals and to enhance the liver function. When your liver is detoxifying the environmental contaminants, then your body will improve your health and the overall longevity.
Improves eye vision: Moringa seeds are rich in lutein which is a carotenoid. This nutrient can help to improve the eye health and it can prevent many different eye diseases, like cataracts and macular degeneration. In a bowl of 70 grams of This seeds are rich with lutein which is a recommended dosage for people who suffer from different eye diseases.
Increases energy: In a single serving of 100 grams of moringa seeds there is enough iron which can help to balance your daily intake of iron in the body and it will keep the hemoglobin levels high. This will protect your body from iron deficiency and it will increase the body energy which will help you to stay active throughout the day.
Prevents infections and illness: Moringa seeds are rich in potent macronutrients like calcium, potassium, antioxidants and amino acids which can boost your energy. The antioxidant properties of moringa seeds will strengthen your immune system by inhibiting the free radical production. Also, moringa seeds have pterygospermin which is acting as a natural antiseptic and antibiotic formula to treat infections and prevent illnesses, like eye infection, swollen glands, bronchitis and jaundice.
Improves digestion: Moringa seeds have adequate amounts of fiber which can help to keep your colon functioning well. There are many doctors who are recommending moringa seeds to improve your metabolism and digestion. Moringa seeds have fiber which can absorb food water and prevent food particles from adhering to the wall of the digestive tract and this can help to improve the digestion. It can soften the stool and it will slow down the transit time which will allow the large intestine to absorb excess water. When you have a healthy bowel movement, then some conditions can be cured, like constipation, bloating and weight gain.
Improves sleep: Moringa seeds are used as a sleep stimulant in many traditional cultures. They can help to reduce the stress and relieve the fatigue and they can help you to sleep faster. You should mix This seeds and water and drink this home remedy before you go to bed so it will improve your sleep.
Improves skin health: When the moringa seed extract is combined with oleic acid and essential vitamins and minerals then it has the ability to penetrate in the skin layers. It can nourish the skin layers by escalating the production of collagen which is essential structural protein for healthy and supple skin. As we are getting older, collagen decreases. Moringa seed extract has rich quantity of Vitamin A and Vitamin A and Vitamin C which will enable your skin to look firm, younger and radiant.